RECORD ADA COUNTY HOME PRICES TEMPERED BY LOW MORTGAGE RATES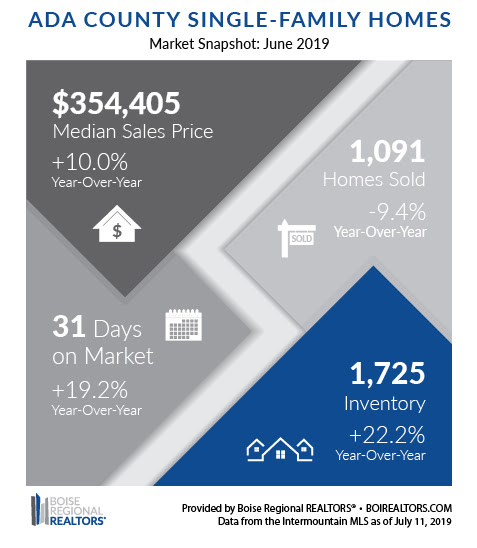 The median sales price for Ada County reached a new record of $354,405 in June 2019. This was up 10.0% over the same month last year.
Ada County home prices continue to be driven by a decreasing supply of lower-priced existing homes compared to demand, new homes selling at overall higher prices due to rising construction costs, as well as increased purchasing power due to low mortgage rates.

Yes, prices are up, but low mortgage rates are helpful for buyers and may also be influencing what homes buyers purchase and at what price point. Since lower rates equates to lower monthly payments, buyers may be selecting a more expensive home that still fits their budget. Low mortgage rates also fuel demand for housing, as those who have been waiting for rates to drop to start shopping for homes.
---
Those thinking about selling or buying shouldn't be concerned with 'timing the market,' because the best time to buy or sell is when it fits your needs and circumstances.READ MORE HERE