MEDIAN SALES PRICE OF ADA COUNTY HOMES DROPS (SLIGHTLY) IN JULY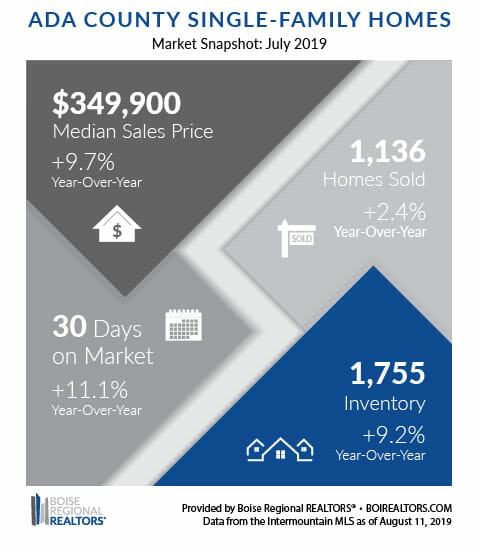 The median sales price was at $349,900 in July 2019 for Ada County, an increase of 9.7% compared to last year, but down 1.3% from June 2019.
One reason we're seeing month-to-month price fluctuations is changes to the "mix" of existing home sales by price range.
The current "mix" of home sales is only made possible by the inventory that is available for purchase. We've seen increased inventory levels each month since April, with 1,755 homes available for sale at the end of July 2019, an increase of 9.2% from July of 2018. This additional inventory was welcome news as the metro area continues to experience persistently low inventory compared to demand.
---
Those thinking about selling or buying shouldn't be concerned with 'timing the market,' because the best time to buy or sell is when it fits your needs and circumstances.READ MORE HERE
FEATURED LISTINGS